Free Delivery
All shipping and delivery is free. You place your order and we take care of the rest.
100% Satisfaction Guarantee
NO RISK PURCHASE
If, for any reason, you are not happy with your purchase, you may return for a full refund.
SCAP Gives Back to the Ocean
Purchase gallery quality prints from Santa Cruz Art Prints and feel good knowing that you to are also helping our oceans. We donate a portion of our sales proceeds to the SeaLegacy organization. 
I don't dive as much as I used to. At one time, I lived to free-dive. My time in the water gave me an appreciation and love for the ocean and all its creatures. 
Learn More about SeaLegacy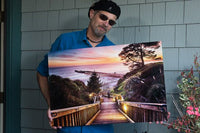 Greg Milligan Photographer
I spend a lot of time stalking sensational scenes and extraordinary light. We are lucky to live in a place blessed with so many amazing landscapes and points of interest. It is a joy to record the local beauty and share that with others as wall art prints.
Santa Cruz Art Prints makes my photography prints, normally sold in galleries, available as canvas, metal, acrylic and framed wall prints at direct from artist prices.